Wedding Favor Lobster Buoys
These miniature wooden lobster buoys make great favors for weddings!! They measure 3" in length overall (2" buoy part & 1" stick). They come with a screw eye in the tapered end. They are sanded smooth, ready for you to paint!!!!
$3.50 each or $15.00 set of 5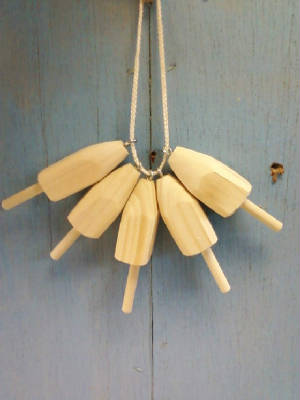 Lobster Trap Card Holders for Weddings
When ordering the wedding lobster traps, be aware that there is normally a 6-7 week wait. These adorable traps are in high demand year-round!!!!
Stained Trap
These are our very popular card holder traps for weddings. They are an authentic lobster trap, just half the size. All the little pieces are all cut and sanded smooth. The doors open up on the top, so flowers can be placed inside on the reception table or left closed and cards inserted inside. They measure 18" long, 13" wide, & 10" tall. This is a great addition to any nautical themed wedding!!
ATTENTION: THESE TRAPS ARE HANDMADE HERE AT OUR SHOP & ARE MADE TO ORDER!! IF YOU NEED IT QUICKLY, PLEASE CALL US OR PUT ON YOUR ORDER WHEN YOU NEED IT BY!!!!
Mahogany Stained---$100.00 ea. plus s/h
Glossy White Trap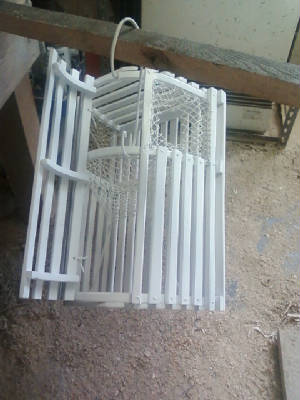 This picture of the glossy white trap shows how the door opens up on the top. All 3 styles open this same way!!!! This trap is primed and then painted with Rustoleum Oil Base Gloss White Paint.
Glossy White---$105.00 ea. plus s/h
Natural Oak Trap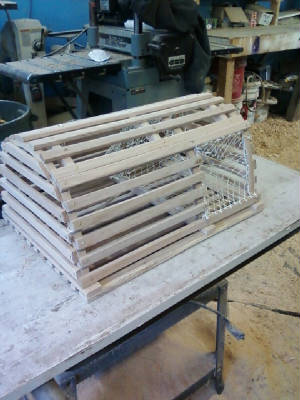 Natural 18"---$85.00 ea. plus s/h