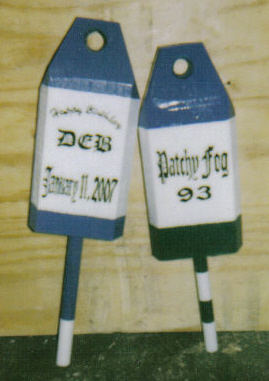 These two wooden lobster buoys are the Items # 14 (our $30.00 wooden buoy) with a customers special phrases handpainted on them. All our lettering is done with oil base paints and are painted on with a great deal of pride and workmanship. The buoy on the left is for a birthday present and the one on the right is for a person's beach home.

This buoy is of a moose with Vermont 2006 painted onto the styrofoam buoy. We can do personalizing on all of our new buoys. We have had many people inquire about pictures of the finished products, hence our listing of some of them on this website. The personalizing of our buoys is a brand new service offered by B&B and the response to this service has been tremendous!!! Thank you, Coastal Living Magazine for promoting this for us!!

This buoy here with the painted red lobster & Island Time painted onto a styrofoam buoy has been one of the favorite personalizing jobs thus far!! We also did a wood buoy that had Bon Bini on it for a woman in Delaware that was absolutely striking!! Of course, I forgot to take a picture of that one, but the customer called after receiving it, and complimented very highly about the job!! Everyone has been very pleased with the work we have been doing on these buoys!!