WELCOME TO OUR WEBSITE!!
Our Outside Store is now open for the 2022 season!!! We are pleased to offer our customers contactless shopping to insure the safety of all concerned. All our products are unlocked so you can select the items you want and if paying with cash or check, you can deposit your payment in our white box. If you need to pay with a credit card, you can call our phone number and we can process your credit card purchase through our square app over the phone for you. Or there is a Venmo QR scan out there and you can use this method also. We have arranged for this type of shopping in order to make shopping at our business a safe and pleasant experience!!
Webcam of Nubble Lighthouse!!!
Visit us on facebook for updates!!!!
CALL (207)641-7106 or email at bnbtrap@yahoo.com to place your orders. Our preferred contact is by email, as I am usually outside waiting on customers and unable to give people on the phone my undivided attention.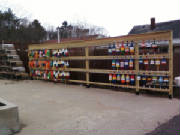 This webpage is built in memory of our son, Robert III, who lost his life May 22, 1998, while out hauling his lobster traps. After an extensive 4 day search, the Marine Patrol recovered him on May 26, 1998, on his 18th birthday. He was a great lobster trap builder, but his love of the sea was where he wanted to be. He is shown here at the age of 14, on our gillnet vessel, holding up a 30 pound codfish.
He found fun and humor in any job and was always smiling and laughing.
Our son, Robert III, doing what he loved to do.
May 26, 1980 - May 22, 1998