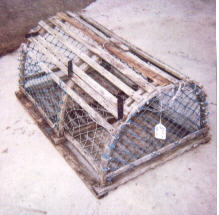 These used half round lobster traps are the real old style that were fished back 50 years ago. The traps are made by steaming the oak and bending it to form. They are made out of oak with the handknit nylon heads inside. These traps measure 32"-34" in length, 26" wide, and 16" in height. These used half round traps are getting real scarce for us to find. We currently have had a delivery of some and now have over 60 in stock!!!!! Our supplier is out of these at the present time, so when these are gone, we don't know when we will be getting some!!!


$55.00 EACH plus s/h
WE ACCEPT VISA, MC, DISCOVER CARDS FOR YOUR ORDER.

CALL (207) 363-7297 TO PLACE AN ORDER.

WE LOOK FORWARD TO HEARING FROM YOU!