ITEM #14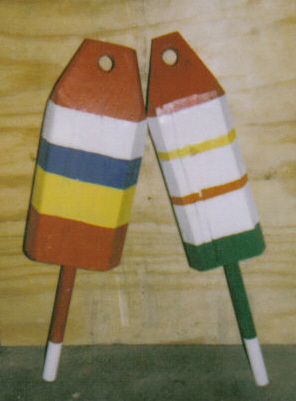 ITEM #14 --------$30.00 Ea. plus S/H
These new wooden buoys are our biggest rectangular size available. They measure in total length 16-20" in length. They are handcrafted and are painted with our oil base paints to give them a bright luster and years of service!! These buoys come in a very wide range of colors. Just let us know which colors you prefer and we will do our best to meet your coloring needs.
ITEM #15 -----$16.50 set of 5
ITEM #15 -------- $16.50 set of 5
These little wood lobster buoys measure 4" in total length. They come in sets of 5 and, like all our wood buoys, they are also handmade and handpainted with oil base paints. They are very glossy and make wonderful Christmas tree decorations. You can also request your favorite colors when ordering these buoys as well.
WE ACCEPT VISA, MC, & DISCOVER FOR YOUR ORDER.

CALL (207) 363-7297 TO PLACE AN ORDER.

WE LOOK FORWARD TO HEARING FROM YOU!