WELCOME TO OUR WEBSITE!!
Our Outside Store will be open weekends starting April 5, 2019 .
Webcam of Nubble Lighthouse!!!
Visit us on facebook for updates!!!!
CALL (207)363-7297 or email at bnbtrap@yahoo.com to place your orders. Our preferred contact is by email, as I am usually outside waiting on customers and unable to give people on the phone my undivided attention.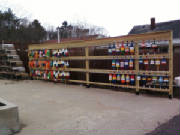 This webpage is built in memory of our son, Robert III, who lost his life May 22, 1998, while out hauling his lobster traps. After an extensive 4 day search, the Marine Patrol recovered him on May 26, 1998, on his 18th birthday. He was a great lobster trap builder, but his love of the sea was where he wanted to be. He is shown here at the age of 14, on our gillnet vessel, holding up a 30 pound codfish.
He found fun and humor in any job and was always smiling and laughing.
We are sorry to inform our many repeat customers, that Bonnie's husband and Robert III's Dad, Bob, has finally succombed to his battle with cancer. He was diagnosed with cancer in November 2003 and passed away on August 24, 2004. He was a very hard worker and was steaming bows for the half round traps just 3 days before his life came to an end. He will be greatly missed by everyone that was fortunate enough to have met him! He has joined their son, Robert III, in that happy fishing ground, up in Heaven!
Our son, Robert III, doing what he loved to do.
May 26, 1980 - May 22, 1998